Christmas 1999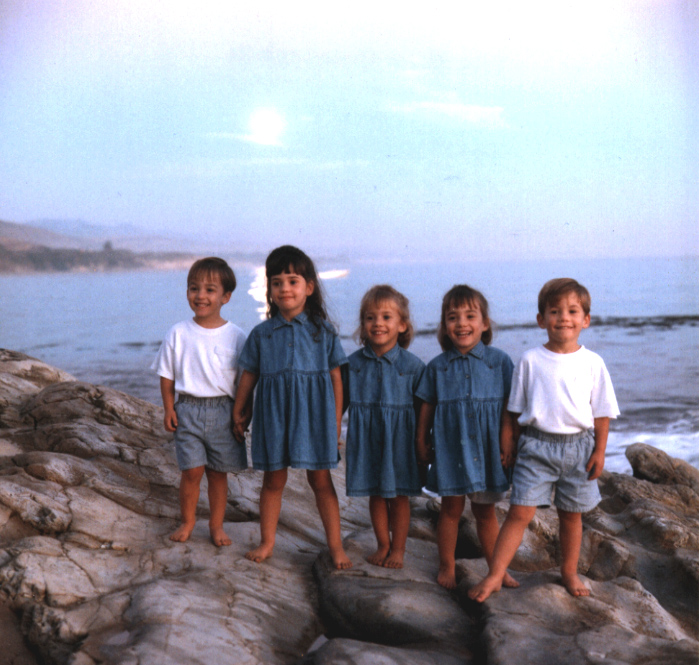 Dear Friends,
It's probably only natural to do a little reminiscing as this millennium comes to an end. And now that our children are in pre-school, sometimes I do sit down and think (I had almost forgotten how to do both). It is truly difficult to believe that four years ago I was in a hospital, confined to my bed... WAITING... not for Santa, but for THE BIRTH (not just of baby Jesus, though we celebrated that and New Years, and our 8th wedding anniversary at the hospital).
And now, after almost four years, 25,000 diapers, 15,000 bottles, 3,000 loads of laundry, 10,000 fingernails and 7,5000 toenails cut (toenails grow more slowly), innumerable boo-boos and Band-Aids... well, you get the picture! But it's impossible to quantify all the hugs and kisses and smiles and the nights we fall into bed exhausted, but satisfied, knowing we are living out the plan God has for our lives.
1999 was a year of firsts: dance lessons, tumbling lessons, swim lessons, pre-school twice a week, pre-school five days a week, everyone was potty-trained (finally!). It was a year of more trips: in August, a plane trip to Washington to visit Grandpa (Shier), Grandma (Pat has recovered well from her 3rd colon cancer surgery), and "Great" (Scot's 96-year old grandma!). The kids flew their first kites and got to pet grandpa's cows (which will be the last time, since he just sold the ranch to the U.S. Wildlife as a "natural preserve"). Thanksgiving was spent with "Mimi" and "Poppa" (Payton) in San Jose with lots of turkey, and visits to a children's museum, zoo and park! We also visited Poppa's office for the last time, as he will retire next month after 34 years at Merrill Lynch. The 8 hour drive to San Jose was actually enjoyable, and no one asked "Are we there yet?"
Sarah, the first-born, is the self-appointed "mother" (boss!) of the gang. She is 3 inches taller than her smallest sibling, Rachel. She loves to dance, sing and play dress-up (she is usually the self-appointed "princess" in dress-up games).
Joshua has continued since birth to be the loudest and is now also the most articulate. He enjoys riding his tricycle, setting up trains and tracks, and collecting rocks (which he stores in his pockets and are found later in the dryer).
Rachel, although the quietest, is the self-proclaimed rule-keeper of the group. She knows how things are to be done and loves reciting Mom's edicts verbatim. She also loves collecting treasures (to others it may be trash, but to Rachel it's a prized find... wait till she discovers garage sales!). She runs a meticulous tea party and is very serious when playing house.
Hannah is our limit-tester and the most gregarious. She loves to write the alphabet, especially the letter "H" (which became her "tag mark" on the hallway walls). She loves being tickled, doing puzzles and coloring.
Jonathan is the most physical and most animated. He loves being "on stage," dancing and playing musical instruments (like guitar, piano, drums or anything else that will make noise). He actually has a lot of talent and could benefit from a good teacher (know anyone who has the patience to teach guitar to a 4 year old?). When he is not running headlong into things (or people), he is usually wrestling with his brother (now I know why parents put small children into contact sports!).
Scot recently moved his financial planning practice into our home, converting the spare bedroom into a high-tech operation. His corporate headquarters are just one mile down the road, providing a convenient place for client meetings and seminars. With the kids in pre-school all day and no commute, he is able to get a lot more done here (and he's never late for dinner!). He claims he will enlist me into his operations, too, which fulfills a dream of ours to work together.
We worked together last week in the "Westchester Holiday Parade," where our kids were the "Junior Parade Mascots." Our preparations changed at the last minute when I felt God inspired me to make manger scene outfits (instead of Santa hats). The kids played out their roles beautifully: Sarah as Mary (carrying baby doll Jesus), Jonathan as Joseph, Joshua as the Magi (or is that "Wise Guy?"), Hannah as the shepherd (carrying a baby shepherd), and Rachel as the angel. We were thanked by many people for being the only group of 1500 participants that actually brought Jesus into the parade. Amazing!
We pray that God has brought Jesus into your lives this year and that His peace will carry you into the new millennium with joy and glad tidings.
Noel to you from all of us with love,
Scot & Patty
Sarah, Joshua, Rachel, Hannah & Jonathan
P.S. E-mail us at Friends@ShierQuints.com (look for a future web site at that address). Also, the December 6th issue of Christianity Today discusses our family's pregnancy, "No Room in the Womb?"